Porta Optica Study
Technical Training and Regional Workshop
9-10 Oct 2006 (Technical Training)
11 Oct 2006 (Regional Workshop)
Kiev, Ukraine
---
On 9-10 of October, 2007 a special technical training in frame of Porta Optica Study project was organized to transfer technical knowledge to network engineers and network potentials to the users of network services. It is organized as a local training for technical stuff and users of NRENs from Belarus, Moldova and Ukraine. NREN IT specialists from Ukraine, Belarus and Moldova took part in the training. The lectures were delivered by Piotr Turowicz (PSNC, Poland) and Steffen Renneberg (ADVA, Germany).
Programme of the training:
Piotr Turowicz (PSNC). Basics of Fiber Optic Technique (10 ppt files in one zip archiv, 24 M)
Components of optical transport systems
Long distance optical networks
System Limitations
Overview & product portfolio of the German vendor ADVA Optical networking AG
Practical optical networks (Corporate Networks, NRENs (Pionier), Carrier Networks)
Experiences with technologies (CWDM, DWDM)
Network planning tools (Examples, optical calculations); typical networks and calculation of all optical values, the shopping list ...
MetroEthernet
City Networks based on Ethernet Access products by ADVA
Solutions for IP-transport over SDH networks
In order to provide general information about situation of National Research and Education Networks in Eastern Europe, the recent Black Sea Initiative and Odessa-Poti undersea cable, problems related to inadequate access to high-speed networks and possible solutions of these problems the Porta Optica Study workshop was held in Kiev on 11 of October, 2007. The workshop was addressed to user communities and policy makers from Belarus, Moldova and Ukraine. Talks were given by speakers from international organizations (DANTE, CEENet), academic networks (PIONIER, URAN, CESNET, GRENA) and some Ukrainian operators. (Datagroup, Novatel, UARNet).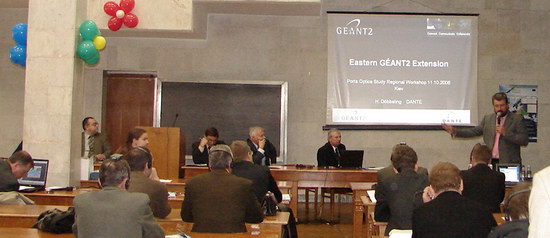 Presentations from the workshop:
During the workshop an intense interest among participants was raised due to Hans Döbbeling presentation. The question of the only one Ukraine representative for GEANT2 participation was discussed (URAN and UARNet were two pretenders). This discussion had a significant impact for the final solution (URAN was recognized as the one National Ukrainian REN).
The Black Sea Initiative was also the subject of wide discussion. The Memorandum of Understanding between participants of the Initiative was signed during the workshop.